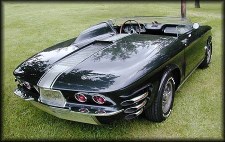 Another experimental Corvair, the XP-785 Super Spyder, was the first car ever to win the Automobile Quarterly Award for Design Excellence. The stunning Paxton super-charged roadster has thankfully been preserved by General Motors.
The concept car was created by GM Design Studios, then under the direction of Bill Mitchell.
The XP-785 was based on a 1962 convertible body shell. Its overall length of 171 inches and its 93-inch wheelbase are both shorter than the stock 180 and 108-inch dimensions. The differences stem from increased front and rear body overhang and the removal of a 15-inch section of the body between the doors and rear wheel arches.