Another experimental Corvair, the XP-785 Super Spyder, was the first car ever to win the Automobile Quarterly Award for Design Excellence. The stunning Paxton super-charged roadster has thankfully been preserved by General Motors.
The concept car was created by GM Design Studios, then under the direction of Bill Mitchell.
The XP-785 was based on a 1962 convertible body shell. Its overall length of 171 inches and its 93-inch wheelbase are both shorter than the stock 180 and 108-inch dimensions. The differences stem from increased front and rear body overhang and the removal of a 15-inch section of the body between the doors and rear wheel arches.
Many styling elements set the Super Spyder apart: a racing-style windscreen, low-drag sport mirrors, and the aerodynamic driver's headrest built into the long, fiberglass rear deck cover. Then there are the exotic exhaust pipes, Stingray taillights, split bumpers, triple louvers in the quarter panels ahead of the rear wheels,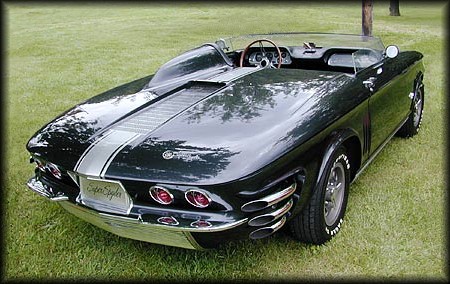 alloy wheels with knock-off centers, Spyder instrumentation, wood-rimmed steering wheel, and the bold racing stripe! I'm drooling again.

Photo: Detroit Free Press & http://www.conceptcarz.com
Content: David Newell - www.corvaircorsa.com/monzapr8.html